Keeping Your Kids Active During Lockdown
Keeping your kids active during lockdown
Kids need to be active, regardless of the current state of Covid restrictions. Skateboarding is enjoying a boom not seen in decades thanks to the sense of freedom and creativity it offers and its boost to mental and physical energy.
‍
We all know that young people spend too much time on devices these days, be it gaming, smartphones or surfing the internet. That screen time has rocketed during the coronavirus crisis.
‍
Recent research by the University of New South Wales found that if children spend over two hours a day on devices, their schoolwork suffers.
‍
Never has it been so important to get your kids outside in the fresh air for some exercise. Skateboarding is one of the best activities you can get them into and is a sport and skill they can hone for years to come.

Why Skateboarding Is The Perfect Lockdown Antidote
All you need to get them rolling is a skateboard for kids and somewhere to ride it, along with some safety gear to protect them from the knocks, bumps and bruises along the way.
‍
Skateboarding is fundamentally a socially distanced pastime and can be as valid a mode of transport as anything else which involves self-propelling yourself on wheels.
‍
And skateboarding as a sport is rocketing in popularity. Currently, there is a surge in boarding not seen since the peak of the Tony Hawks phenomenon around the turn of the millennium.

Skateboarding Is Going To Be Massive This Summer
It will only continue. This summer, skateboarding will become an Olympic sport for the first time when Tokyo plays host to the biggest sporting and cultural event of recent years.
‍
Your kids will want to watch out for Sky Brown (Team GB), who turns 13 on the eve of the games, Nyjah Huston (USA), who has amassed more prize money than any other skater, and MTV fly-on-the-wall star Ryan Sheckler.
‍
So get ahead of the curve by kiting your kids out with the board and accessories they need.
What Your Kids Need To Start Skateboarding
Kids can start with pretty much any board. Once they progress and have learned the basics of how to ride, it's usually best to advance a little beyond the toy wooden skateboards that you'll see advertised aplenty.
‍
Cheaper skateboards for kids have usually scrimped on the quality of parts, they'll be hard to learn with and not much fun to ride. Always be sure to purchase a top-quality board and make sure your skating protection is the best around..
‍
Next, think about what your kids will be doing with their skateboard. If they want to just skate around the park and take it easy a cruiser skateboard makes a good choice as it has soft wheels that provide plenty of grip and a smooth ride.
‍
If they'll be heading to a local skatepark and trying to do tricks, as most children do, then look for a higher quality complete skateboard which is shaped for stunts, these feature a turned up nose and tail and come with small harder wheels.

Thinner boards are lighter and better for ollies and kickflips (jumping) but they have less room on the deck so are slightly less stable and have less room for your feet.
‍
Wider boards have more space so are more stable, but do they take a bit more effort to get off the ground when jumping and doing tricks.
‍
Next, know your wheels. Skateboards that don't have polyurethane wheels aren't much use, cheap plastic wheels are slippery and dangerous and will make learning even the basics very hard. A decent set of trucks also allows the board to turn more easily which is essential when learning to skateboard.
‍
As you can imagine, there is a whole lot more to the technicalities of skateboard specifications (bearing ratings, different truck types, riser pads etc), but that should be sufficient information to get your kids started.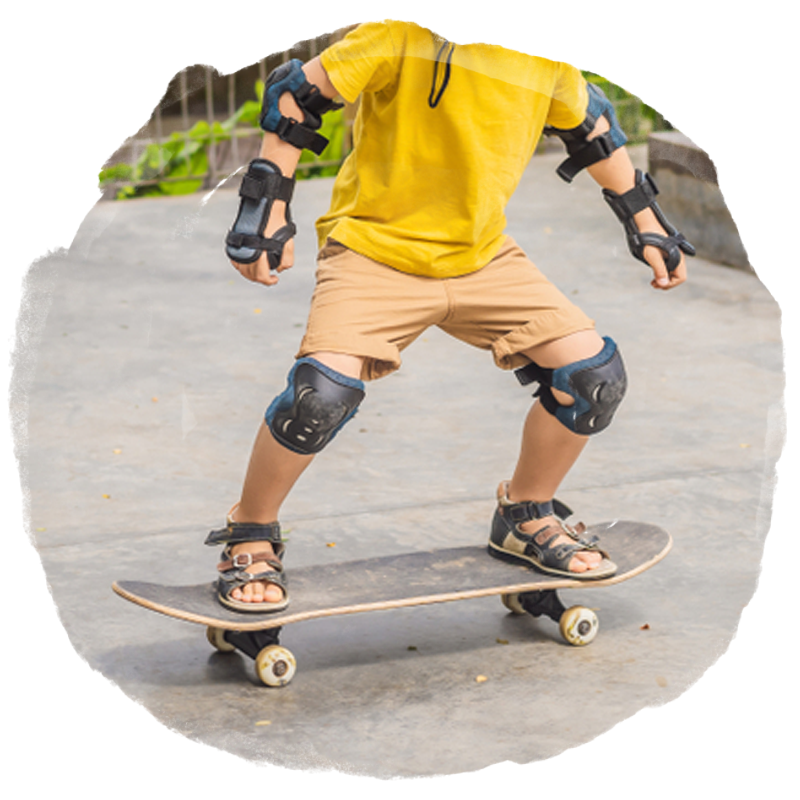 Essential Skateboarding Safety Equipment For Kids
All you need to do now is to keep them as safe as possible as they ride along. A helmet and pads are absolutely essential. Falling off a skateboard tends to hurt, but it is all part of the fun of learning. So kit them out with protective basics as you don't want to put them off when they've only just begun, let the ollies and kickflips begin.
---