Impala Roller Skate Buying Guide
Impala Roller Skate Buying Guide
Roller skating has a wild history that literally crashed onto the London party scene when, in 1760, inventor Joseph Merlin wore his new metal wheeled boots to a social gathering and literally collided with a rather expensive full-length mirror. Fast forward to 1819 and Monsieur Petibledin patented the very first roller skates before Louis Legrand came along in 1848 with the two double wheels (front and back) quad version we know and love today.
‍
In 1857, roller skate rinks opened in London's Floral Hill and the Strand and in 1908, New York's Madison Square Gardens became a huge roller skating rink. In the 1970s, when Slick Willie's was born, Hollywood was alight with roller skating movies and subsequently, roller discos began rising in popularity. Skating also has deep roots in hip hop culture and the Civil Rights Movement, back when African Americans were excluded from indoor skating rinks and used the likes of Venice Beach in LA to enjoy the freedom of skating.

Symbols of skating
2020 has seen a surge in roller skating thanks to the skate squad stars of TikTok and brands such as on-the-ball Impala, whose candy coloured skates and midnight blue wheels are evocative of sybaritic '80s roller discos and sun-drenched beach boulevards. Roller skating is symbolic of freedom, flexibility, fitness and fun. In times of social distancing, it's a great sport to take up. As Impala CEO Matt Hill says, "Impala has been going increasingly crazy since 2018. The exponential growth has been amazing and the pandemic saw awesome further growth." Skating gets the serotonin flowing, is an affordable fitness-driven workout for the whole body and lets you cruise for miles in the open air.

Roller skating with impala
Launched in 2017, Impala is the skate squad lifestyle roller skating brand on everyone's feet. Capturing the essence of nostalgia with on-point colourways and patterns, pastel-tinted fades and leopard print skates, this vibrant Australian company celebrates freedom of movement and has a strong focus on getting beginners and intermediates off the ground. Better yet, all their roller skates are PETA-approved Vegan and crafted from faux leather. Not only do they look good, but this Globe International company also does good, working with charities and causes including Good World Power of Peace, Boarding for Breast Cancer and Dangerous Females.

Impala buying guide at slick willie's
Superior in comfort and completely adjustable, Impala roller skates are great for beginners. They can be used both outside and inside without changing wheels and this makes them a breeze for both cruising and dancing. Glamorous and in-Vogue, the whole Impala aesthetic is cute, sporty and an Instagram influencer's dream.
Candy coloured impala roller skates
Rock the candy-coloured retro look with Impala's Pastel Fade Quad Roller Skates which feature metal speed lace eyelets, aluminium alloy trucks, 58mm 82s durometer nylon core urethane wheels and ABEC 7 bearings. The ombre colourway calls out for roller discos, dance moves and sunny boardwalk cruising.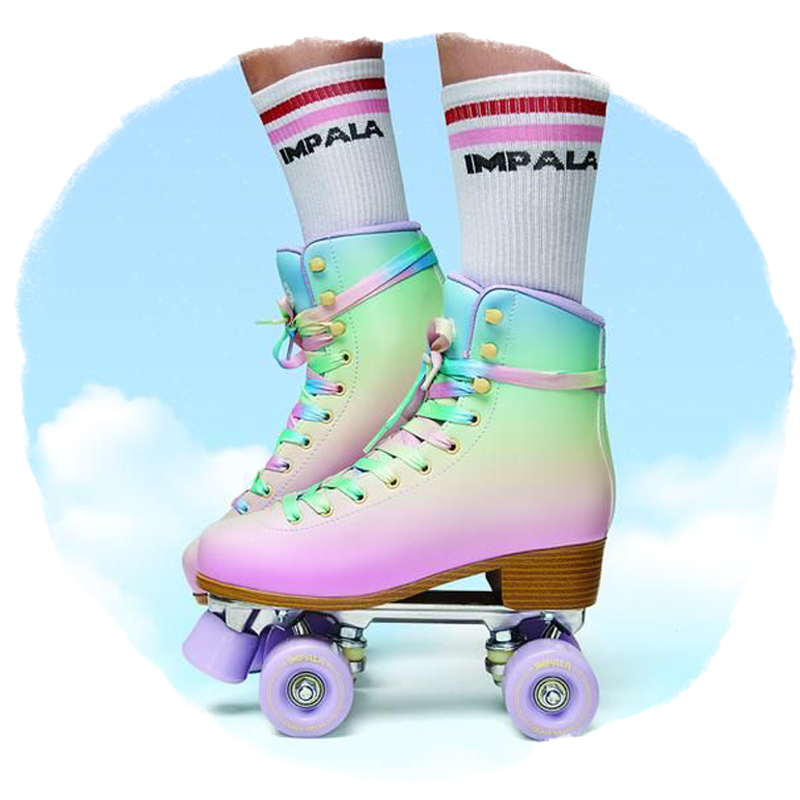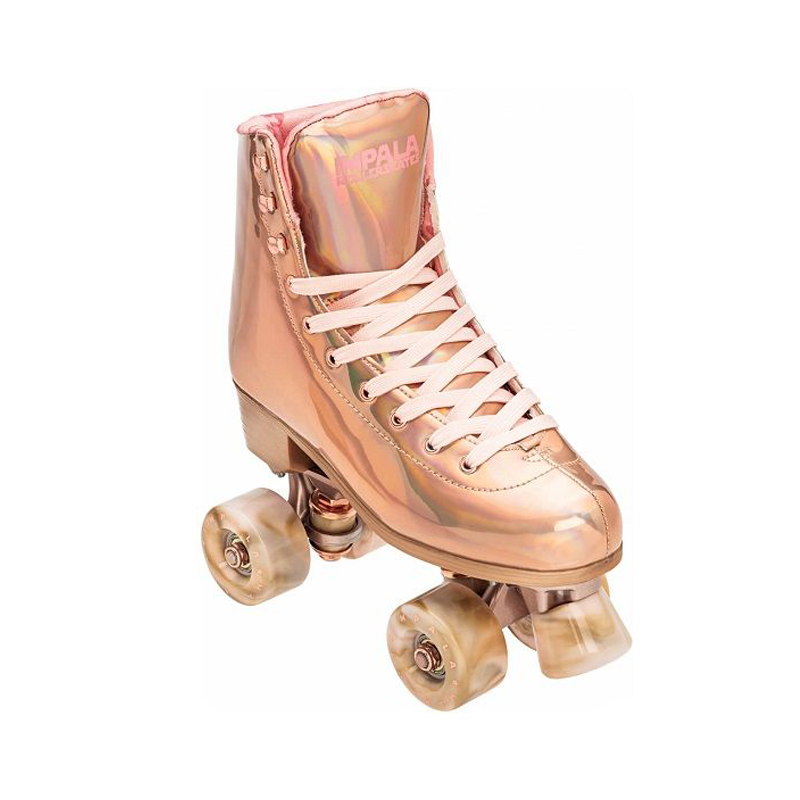 Magical metallic impala roller skates
Get your glam edge on with Slick Willie's selection of metallic coloured Impala roller skates. The high shine Marawa Rose Gold Quad Roller Skates have been designed by skating and hula-hooping legend Marawa Wamp, holder of four world record titles in high-heeled skating. Crafted with marble effect wheels and rose gold reflective materials, they're the ultimate '80s skating revival which also embraces this year's metallic runway trend. Impala's Holographic Quad Skates are an ode to the '70s with blue glitter toe stops and matching wheels that look great paired with cut off denim.
Block colour impala roller skates
Impala's block colour skates include a sunlit burst of coral, minty fresh aqua and monochrome midnight and white. The Impala Aqua Quad Roller Skates come with contrasting pink laces while the coral colourway keeps everything muted and cute. Impalas' sleek Midnight Quad Roller Skates make a high fashion statement in deep blue, creating a dazzling and sophisticated colour base.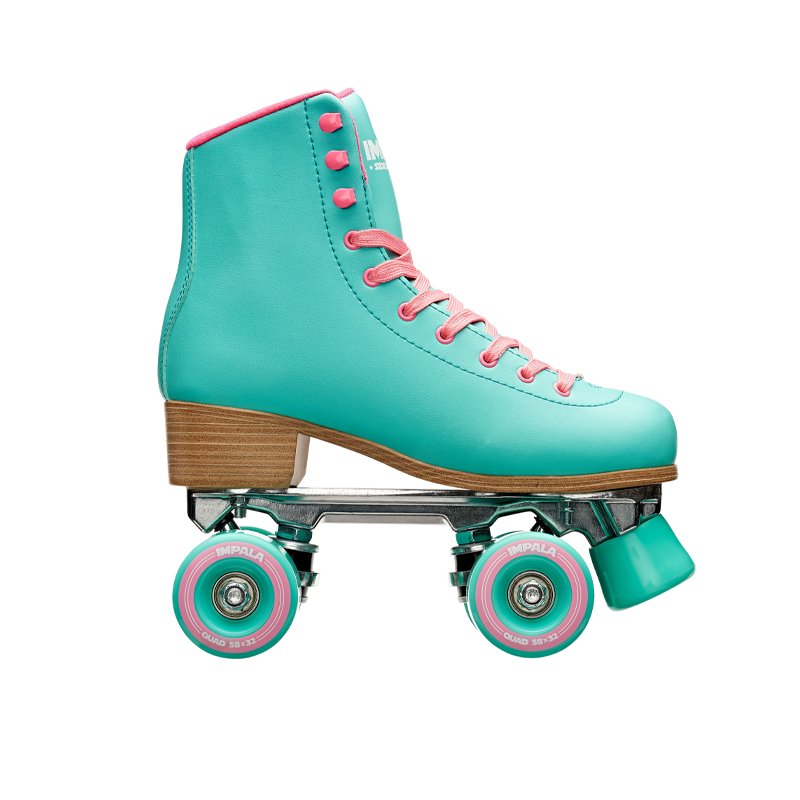 ---